Modified Atmosphere Packaging (MAP) Equipment Market Report 2022 is the latest study published by Gravitas Market Insights. It offers global industry analysis for 2016-2021 and valuates opportunities and forecast data for 2022-2028. This report covers Market Overview along with market background, Market Trends, Demand Analysis, Analysis of COVID-19 Impact, Segment Overview, Regional Profiling, Overall market structure and in-depth Competitive Analysis. Additionally, key activities related to the market strategies which includes mergers and acquisitions, product advancements, etc., are discussed.
Modified Atmosphere Packaging (MAP) Equipment Report by Usage Material, Type, Atmosphere, End-User, and Geography – Global Forecast to 2028 is a professional and comprehensive research report on the world's major regional market conditions, focusing on the main regions i.e., North America, Europe, Asia-Pacific, Southeast Asia, and Middle East Africa)
In this report, the global Modified Atmosphere Packaging (MAP) Equipment market is valued at USD 14.3 Billion in 2021 and is projected to reach USD 21.7 Billion by the end of 2028, growing at a CAGR of 6.7% during the period 2021 to 2028. In the end, the report introduced new project SWOT analysis, investment feasibility analysis, and investment return analysis.
Modified Atmosphere Packaging (MAP) Equipment Market Segmentation:
By Usage Material:
Poly Ethylene
Ethylene Vinyl Alcohol
Oriented Polyethylene- Terephthalate
Polyamide
Other Material
By Type:
Horizontal and Vertical Fill & Seal Equipment
Tray Packaging Equipment
Band Sealing Equipment
Fin Seal Flow Wrap Equipment
Bag Sealing
Vacuum Chamber
By End-User:
Poultry, Sea-food & Meat processing industry
Bakery & Confectionary
Dairy Products
Fruits & Vegetables
Convenience food
Others
Regional Coverage
North America

United States
Canada
Mexico

Europe

UK
Germany
France
Italy
Spain
Russia
Rest of Europe

Asia Pacific

China
India
Japan
Korea
Australia
Southeast Asia
Rest of Asia-Pacific

South America

Brazil
Argentina
Colombia
Rest of South America

Middle East & Africa

GCC
South Africa
Rest of Middle East & Africa
Competitive Analysis:
Eminent market players have been outlined to extract improved insights into the worldwide businesses. Our research reports offer all-inclusive information on various topmost manufacturers that are operational across global regions. We provide company profiles which include detailed overview of the company, business information, business performance, crucial strategies implemented through the years.
Few of the Key Players Covered in Our Report:
Edinburg Instrument Limited
Dansensor AS
Pro PA
LINDE AG
Berry Global Group Inc.
GEA
Hayssen Flexible System
Linpac Packaging Limited
Krones Group
Coesia Group
Impact of COVID19:
The COVID19 pandemic crippled the global economy, it resulted in a worldwide lockdown, and this has majorly impacted numerous industries. Our industry experts are working round-the-clock to identify, accumulate and in-time deliver market analysis because of unprecedented decisions in COVID-19 repercussions on many businesses. The full version of this report will comprise the overall impact of the pandemic and predicted alteration on the outlook of the industry, by taking into the account the economic, political, technological, and social parameters.
This research study involves broad usage of both secondary and primary data sources. The research process involves the identification of numerous factors which affect the industry, comprising the market environment, government policy, historical data, present trends in the market, competitive landscape, technological innovation, upcoming technologies and the technical progress in related industry, and market risks, opportunities, market barriers and challenges.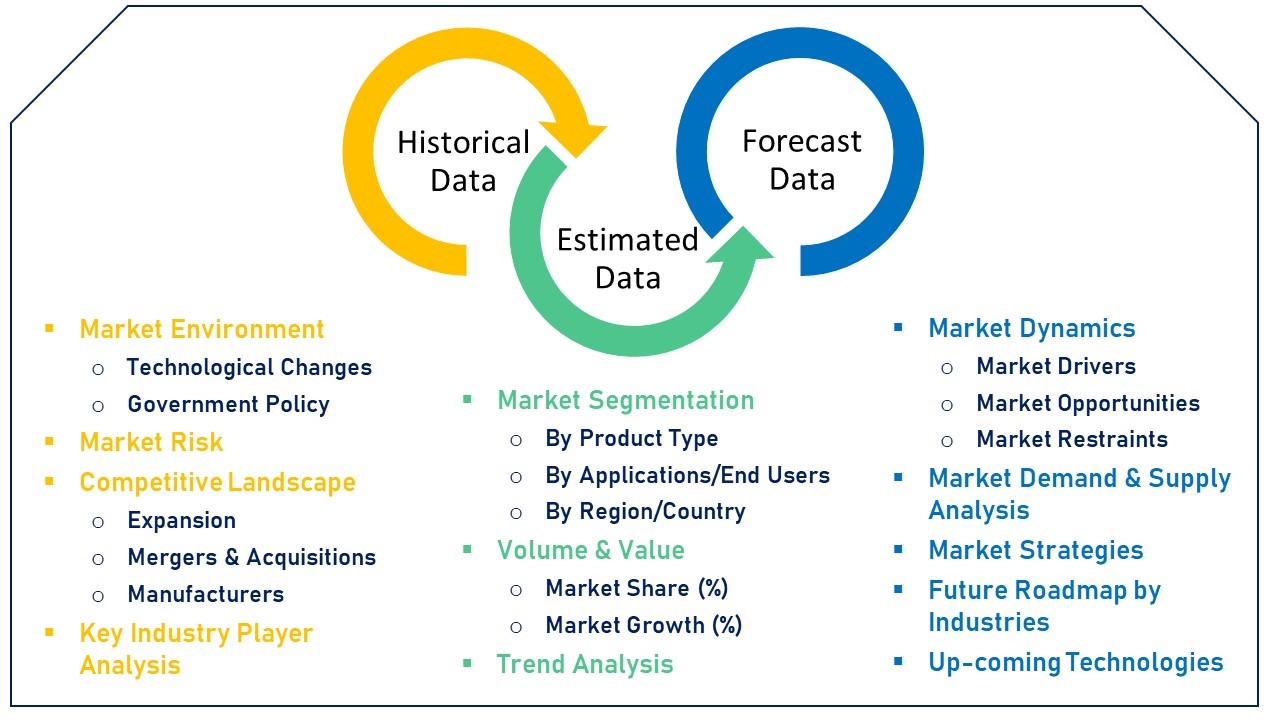 Market Estimation
Top-down and bottom-up approaches are used for validating the market size for companies, regional segments along with relevant market segmentations such as product type and application.
This report includes market estimations which are based on the marketed sale price of a product. Further breakdown of product segments, particular market share are formed based on the weightage assigned to every segment, which is derived of their usage rate and average price. The entire probable factors which effect the markets and influence them in a great way are included in this research report; and have been accounted for, studied in-depth and are confirmed through primary research. These are then studies to get the final qualitative and quantitative data. Any of the factors such as the outcome of inflation, economic downfall, and any kind of policy and regulatory alterations and/or other such factors are not accounted for in the market forecast. All of this data is amalgamated and included with thorough inputs and analysis from Gravitas Market Insights is curated in this report.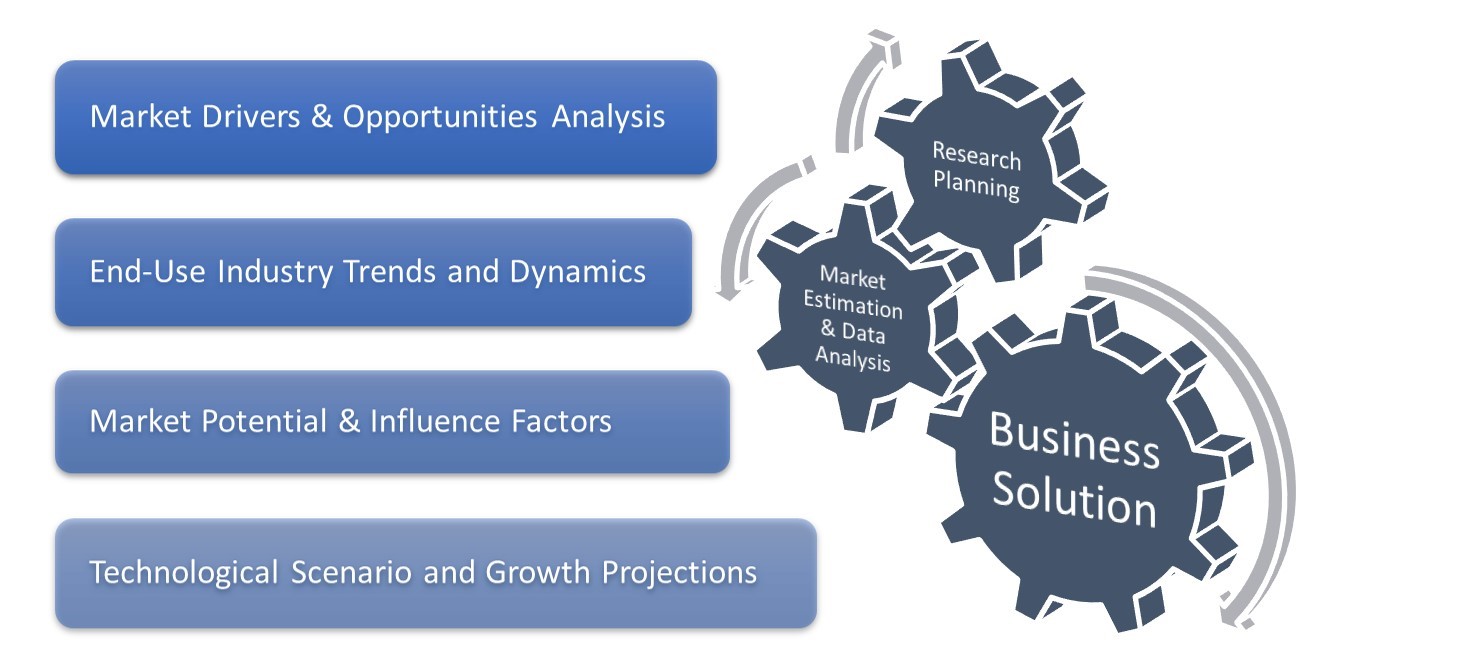 Along with the previously mentioned approaches, various data triangulation methods, in order to conduct market estimations and market forecasting for the complete market segments are detailed in this report. Key Companies present in the said market are also acknowledged via in-depth secondary research and primary research.
Section 1: Executive Summary
1.1. Modified Atmosphere Packaging (MAP) Equipment Market Industry 360° outline, Year 2016 – 2028
1.2. Business Model Trends
1.3. Growth Trends
1.4. End-User/Type Trends
1.5. Regional Trends
Section 2: Market Dynamics - Modified Atmosphere Packaging (MAP) Equipment Market Industry Insights
2.1. Growth Drivers
2.2. Opportunities
2.3. Industry challenges
2.4. SWOT Analysis
2.5. Porter's Analysis
2.6. Worldwide Industry Landscape, Year 2016 – 2028
2.7. Industry Segmentation
2.8. Type & Invention landscape
2.9. Regional Landscape
2.9.1. North America
2.9.2. Europe
2.9.3. Asia-Pacific
2.9.4. South America
2.9.5. Middle East & Africa
2.10. Competitive Environment
Section 3: Global Modified Atmosphere Packaging (MAP) Equipment Market, By Usage Material
3.1. Segmentation Analysis, By Usage Material, 2016-2028
3.2. Market Share Segmentation Analysis, By Usage Material, 2016-2028
3.3. Poly Ethylene
3.3.1. Market estimates and forecast with Growth rate analysis, 2016 – 2028
3.4. Ethylene Vinyl Alcohol
3.4.1. Market estimates and forecast with Growth rate analysis, 2016 – 2028
3.5. Oriented Polyethylene- Terephthalate
3.5.1. Market estimates and forecast with Growth rate analysis, 2016 – 2028
3.6. Polyamide
3.6.1. Market estimates and forecast with Growth rate analysis, 2016 – 2028
3.7. Other Material
3.7.1. Market estimates and forecast with Growth rate analysis, 2016 – 2028
Section 4: Global Modified Atmosphere Packaging (MAP) Equipment Market, By Type
4.1. Segmentation Analysis, By Type, 2016-2028
4.2. Market Share Segmentation Analysis, By Type, 2016-2028
4.3. Horizontal and Vertical Fill & Seal Equipment
4.3.1. Market estimates and forecast with Growth rate analysis, 2016 – 2028
4.4. Tray Packaging Equipment
4.4.1. Market estimates and forecast with Growth rate analysis, 2016 – 2028
4.5. Band Sealing Equipment
4.5.1. Market estimates and forecast with Growth rate analysis, 2016 – 2028
4.6. Fin Seal Flow Wrap Equipment
4.6.1. Market estimates and forecast with Growth rate analysis, 2016 – 2028
4.7. Bag Sealing
4.7.1. Market estimates and forecast with Growth rate analysis, 2016 – 2028
4.8. Vacuum Chamber
4.8.1. Market estimates and forecast with Growth rate analysis, 2016 – 2028
Section 5: Global Modified Atmosphere Packaging (MAP) Equipment Market, By End-User
5.1. Segmentation Analysis, By Atmosphere, 2016-2028
5.2. Market Share Segmentation Analysis, By Atmosphere, 2016-2028
5.3. Poultry, Sea-food & Meat processing industry
5.3.1. Market estimates and forecast with Growth rate analysis, 2016 – 2028
5.4. Bakery & Confectionary
5.4.1. Market estimates and forecast with Growth rate analysis, 2016 – 2028
5.5. Dairy Products
5.5.1. Market estimates and forecast with Growth rate analysis, 2016 – 2028
5.6. Fruits & Vegetables
5.6.1. Market estimates and forecast with Growth rate analysis, 2016 – 2028
5.7. Convenience food
5.7.1. Market estimates and forecast with Growth rate analysis, 2016 – 2028
5.8. Others
5.8.1. Market estimates and forecast with Growth rate analysis, 2016 – 2028
Section 6: Global Modified Atmosphere Packaging (MAP) Equipment Market, Regional Analysis
6.1. Global Modified Atmosphere Packaging (MAP) Equipment Market, Regional Analysis
6.2. North America, Country level Analysis
6.2.1. North America Modified Atmosphere Packaging (MAP) Equipment Market estimates and forecast with Growth rate analysis, By Usage Material, 2016 – 2028
6.2.2. North America Modified Atmosphere Packaging (MAP) Equipment Market estimates and forecast with Growth rate analysis, By Type, 2016 – 2028
6.2.3. North America Modified Atmosphere Packaging (MAP) Equipment Market estimates and forecast with Growth rate analysis, By Atmosphere, 2016 – 2028
6.2.4. North America Modified Atmosphere Packaging (MAP) Equipment Market estimates and forecast with Growth rate analysis, By End-User, 2016 – 2028
6.2.5. United States
6.2.5.1. Market estimates and forecast with Growth rate analysis, 2016 – 2028
6.2.6. Canada
6.2.6.1. Market estimates and forecast with Growth rate analysis, 2016 – 2028
6.2.7. Mexico
6.2.7.1. Market estimates and forecast with Growth rate analysis, 2016 – 2028
6.3. Europe Country level Analysis
6.3.1. Europe Modified Atmosphere Packaging (MAP) Equipment Market estimates and forecast with Growth rate analysis, By Usage Material, 2016 – 2028
6.3.2. Europe Modified Atmosphere Packaging (MAP) Equipment Market estimates and forecast with Growth rate analysis, By Type, 2016 – 2028
6.3.3. Europe Modified Atmosphere Packaging (MAP) Equipment Market estimates and forecast with Growth rate analysis, By Atmosphere, 2016 – 2028
6.3.4. Europe Modified Atmosphere Packaging (MAP) Equipment Market estimates and forecast with Growth rate analysis, By End-User, 2016 – 2028
6.3.5. UK
6.3.5.1. Market estimates and forecast with Growth rate analysis, 2016 – 2028
6.3.6. Germany
6.3.6.1. Market estimates and forecast with Growth rate analysis, 2016 – 2028
6.3.7. France
6.3.7.1. Market estimates and forecast with Growth rate analysis, 2016 – 2028
6.3.8. Italy
6.3.8.1. Market estimates and forecast with Growth rate analysis, 2016 – 2028
6.3.9. Spain
6.3.9.1. Market estimates and forecast with Growth rate analysis, 2016 – 2028
6.3.10. Russia
6.3.10.1. Market estimates and forecast with Growth rate analysis, 2016 – 2028
6.3.11. Rest of Europe
6.3.11.1. Market estimates and forecast with Growth rate analysis, 2016 – 2028
6.4. Asia-Pacific Country level Analysis
6.4.1. Asia-Pacific Modified Atmosphere Packaging (MAP) Equipment Market estimates and forecast with Growth rate analysis, By Usage Material, 2016 – 2028
6.4.2. Asia-Pacific Modified Atmosphere Packaging (MAP) Equipment Market estimates and forecast with Growth rate analysis, By Type, 2016 – 2028
6.4.3. Asia-Pacific Modified Atmosphere Packaging (MAP) Equipment Market estimates and forecast with Growth rate analysis, By Atmosphere, 2016 – 2028
6.4.4. Asia-Pacific Modified Atmosphere Packaging (MAP) Equipment Market estimates and forecast with Growth rate analysis, By End-User, 2016 – 2028
6.4.5. China
6.4.5.1. Market estimates and forecast with Growth rate analysis, 2016 – 2028
6.4.6. India
6.4.6.1. Market estimates and forecast with Growth rate analysis, 2016 – 2028
6.4.7. Japan
6.4.7.1. Market estimates and forecast with Growth rate analysis, 2016 – 2028
6.4.8. Korea
6.4.8.1. Market estimates and forecast with Growth rate analysis, 2016 – 2028
6.4.9. Australia
6.4.9.1. Market estimates and forecast with Growth rate analysis, 2016 – 2028
6.4.10. Southeast Asia
6.4.10.1. Market estimates and forecast with Growth rate analysis, 2016 – 2028
6.4.11. Rest of Asia-Pacific
6.4.11.1. Market estimates and forecast with Growth rate analysis, 2016 – 2028
6.5. South America Country level Analysis
6.5.1. South America Modified Atmosphere Packaging (MAP) Equipment Market estimates and forecast with Growth rate analysis, By Usage Material, 2016 – 2028
6.5.2. South America Modified Atmosphere Packaging (MAP) Equipment Market estimates and forecast with Growth rate analysis, By Type, 2016 – 2028
6.5.3. South America Modified Atmosphere Packaging (MAP) Equipment Market estimates and forecast with Growth rate analysis, By Atmosphere, 2016 – 2028
6.5.4. South America Modified Atmosphere Packaging (MAP) Equipment Market estimates and forecast with Growth rate analysis, By End-User, 2016 – 2028
6.5.5. Brazil
6.5.5.1. Market estimates and forecast with Growth rate analysis, 2016 – 2028
6.5.6. Argentina
6.5.6.1. Market estimates and forecast with Growth rate analysis, 2016 – 2028
6.5.7. Colombia
6.5.7.1. Market estimates and forecast with Growth rate analysis, 2016 – 2028
6.5.8. Rest of South America
6.5.8.1. Market estimates and forecast with Growth rate analysis, 2016 – 2028
6.6. Middle East & Africa Country level Analysis
6.6.1. MEA Modified Atmosphere Packaging (MAP) Equipment Market estimates and forecast with Growth rate analysis, By Usage Material, 2016 – 2028
6.6.2. MEA Modified Atmosphere Packaging (MAP) Equipment Market estimates and forecast with Growth rate analysis, By Type, 2016 – 2028
6.6.3. MEA Modified Atmosphere Packaging (MAP) Equipment Market estimates and forecast with Growth rate analysis, By Atmosphere, 2016 – 2028
6.6.4. MEA Modified Atmosphere Packaging (MAP) Equipment Market estimates and forecast with Growth rate analysis, By End-User, 2016 – 2028
6.6.5. GCC
6.6.5.1. Market estimates and forecast with Growth rate analysis, 2016 – 2028
6.6.6. South Africa
6.6.6.1. Market estimates and forecast with Growth rate analysis, 2016 – 2028
6.6.7. Rest of Middle East & Africa
6.6.7.1. Market estimates and forecast with Growth rate analysis, 2016 – 2028
Section 7: Company Profile - Modified Atmosphere Packaging (MAP) Equipment Market
7.1. Edinburg Instrument Limited
7.1.1. Business Overview
7.1.2. Usage Material & Service Offering
7.1.3. Overall Revenue
7.1.4. Strategic Outlook
7.2. Dansensor AS
7.2.1. Business Overview
7.2.2. Usage Material & Service Offering
7.2.3. Overall Revenue
7.2.4. Strategic Outlook
7.3. Pro PA
7.3.1. Business Overview
7.3.2. Usage Material & Service Offering
7.3.3. Overall Revenue
7.3.4. Strategic Outlook
7.4. LINDE AG
7.4.1. Business Overview
7.4.2. Usage Material & Service Offering
7.4.3. Overall Revenue
7.4.4. Strategic Outlook
7.5. Berry Global Group Inc.
7.5.1. Business Overview
7.5.2. Usage Material & Service Offering
7.5.3. Overall Revenue
7.5.4. Strategic Outlook
7.6. GEA
7.6.1. Business Overview
7.6.2. Usage Material & Service Offering
7.6.3. Overall Revenue
7.6.4. Strategic Outlook
7.7. Hayssen Flexible System
7.7.1. Business Overview
7.7.2. Usage Material & Service Offering
7.7.3. Overall Revenue
7.7.4. Strategic Outlook
7.8. Linpac Packaging Limited
7.8.1. Business Overview
7.8.2. Usage Material & Service Offering
7.8.3. Overall Revenue
7.8.4. Strategic Outlook
7.9. Krones Group
7.9.1. Business Overview
7.9.2. Usage Material & Service Offering
7.9.3. Overall Revenue
7.9.4. Strategic Outlook
7.10. Coesia Group
7.10.1. Business Overview
7.10.2. Usage Material & Service Offering
7.10.3. Overall Revenue
7.10.4. Strategic Outlook
*Market size and forecast will be provided from 2016-2028, and forecast period would be 2022-2028
*Details on financial performance and strategic moves and developments may not be captured for unlisted companies
*List of companies profiled in this TOC is tentative and may change after detailed analysis